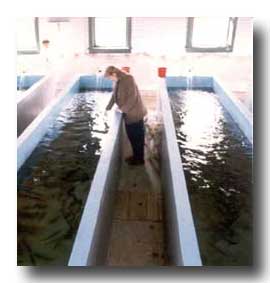 Thanks for checking out our web site! The goal of our site is to answer the typical questions asked by a pond owner wanting to stock their pond.
We are a private hatchery serving privately owned ponds and lakes. The State of Montana as well as the U.S. Fish and Wildlife Service have numerous hatcheries in the state yet serve only to stock public waterways and lakes and will not typically supply fish to private waters.
Our hatchery was built in 1919 by the son of the Butte copper king Marcus Daly. Our all important water source is a peat moss spring near Skalkaho Creek south east of Hamilton some 4 miles. Daly's engineer selected this corner of the valley because of its plentiful water and proximity to their stock farm holdings. What was "state of the art" in 1919 still functions today thanks to the gravity flow design with some upgrades through the decades. Our fish house includes 19 concrete raceways and is surrounded by three outdoor ponds. The water flows into the fish house at roughly 50 degrees through the winter which keeps the house above freezing and the ponds ice free unless the temperature drops to 10 below or so.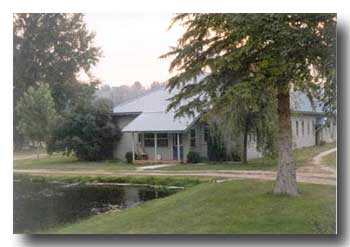 Rainbows, Rainbows and Rainbows
In the past we have grown Westsolpe Cutthroat and Eastern Brook trout, yet the majority of fish we stock have always been Rainbow trout. This plus the fact that the Rainbow do so well (grow at amazing rates) in most pond environments, we now deal only with Rainbows.

Annual Health Inspection
ach year we are inspected by the state of Montana for possible fish diseases. Disease is always a concern especially since whirling disease was found in the state. Samples of each lot of fish are taken and tested before the main hauling season begins. If you would like a copy of our most recent disease free results let us know and we can fax or mail you a copy. Our commercial license is renewed each year only after this inspection and supplying the state a listing of every delivery and or sale of the previous year. We are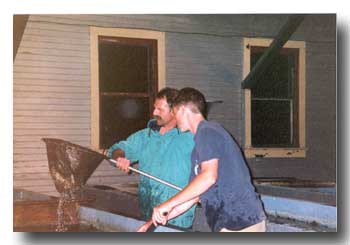 always concerned with bringing a disease back to the hatchery. Because of this we use separate nets and other equipment on our trucks which are not used here at the hatchery. We will not put water on from any other source than ours and once the fish go on the truck we are committed to take them off the property.
Predation and Inventory
One of the more difficult factors of raising fish is dealing with the predators which locate our "unnatural" density of fish. Great Blue Herons, Osprey, Bald Eagles, Great Horned Owls and Raccoons all take a share of the fish in our outdoor ponds. Luckily we are far enough from Skalkaho Creek which saves us from contributing to the diets of the mink and otter (knock on wood).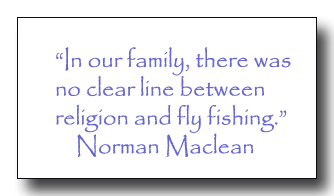 All of these species take their toll and the fun part starts as we book orders and do not know just what we have in numbers until the fish are seined from the ponds and loaded for hauling.